Please note that these CD campaign pages have been frozen as of 14-1-2005, and will not be updated for the time being. However, they will still remain here as an information resource for people still encountering problems with their CDs.


Corrupt audio discs, aka "Copy-Protected CDs"
Home | Quick Summary | Web Buttons | Retailer Policies | Action Reports | Our Research | Links + Background Reading | Help us find Bad CDs | Known Bad CDs | Warning Labels | For Leafletting Volunteers | Contact
CD Warning Labels in use
Thanks to the help of a contact in the Netherlands (and others), here are some examples of the kinds of warnings that have appeared on corrupt CD releases. As you can see, many of these are in tiny print, sideways, or hidden away where you are unlikely to look. Really we need something big and bold to warn consumers, not cowardly efforts like some of these! Also, remember that there are still CD releases being made without any warning labels. So, watch out, and let us know if you find any CDs we don't already know about, labelled or not.


IFPI's new logo for corrupt discs.
See their press releases here and here.

We hope that the logo will be displayed prominently and in black and white, but IFPI's recent recommendations are so vague that it could just as well appear in blue on purple hidden on the back cover, which would not help consumers in any way. Also, this abstract shape will have no meaning to consumers unless it is also explained to them, which means that it is of little use without an accompanying consumer information campaign from the IFPI, which they are not planning as far as we are aware.


EMI and Virgin Netherlands typical warning


Universal warning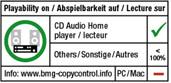 BMG Cactus-100 warning


BMG Cactus-200 warning
(Low quality compressed audio is played on a PC)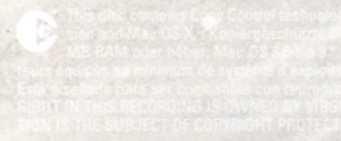 Reamonn -- Beautiful Sky
(Near-invisible IFPI logo and explanatory text)


Mama's Jasje -- no warning or explanation, just the IFPI logo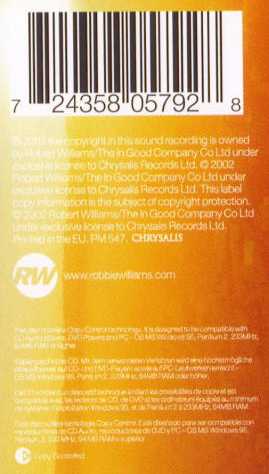 Robbie Williams -- Escapology
The warning itself is in the lower third of this image, below RW.
This is so appallingly bad it is beyond belief.


Ace of Base -- Da Capo


Five -- "Greatest Hits"


Bild -- "Mallorca Hits"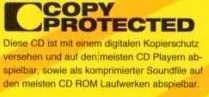 Bravo -- "Hits"


BZN -- Tequila Sunset


Dance Train 2002, volume 3


Guus Meeuwis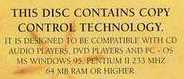 Helmut Lotti -- "A Tribute To The King"


Joe -- "Better Days"


Kuschelrock 15


Loveparade 2001 (DE)


Loveparade 2002 (DE)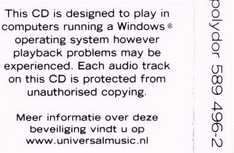 Marco Borsato -- "Onderweg"


Natalie Imbruglia -- "White Lillies Island"


Right Said Fred -- "Fredhead"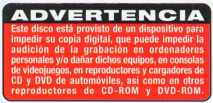 Rosa -- "Rosa"


Sarah Connor -- "Green Eyed Soul"


Sony/Germany typical warning


Sony/Netherlands typical warning


Sony/UK typical warning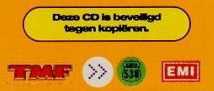 TMF Hitzone 19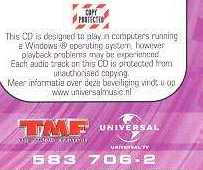 TMF Hitzone 20


The Dome 19


Tiziano Ferro -- "Rosso Relativo"


Trance 80s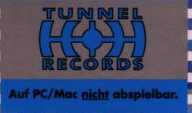 Tunnel Trance Force 21


Viva Hits 14